The new spring cuddle team is ready!

Sham & Rock, Lucky & Charm
Cuddles are $25/per guest
Saturday & Sunday minimums are 4 guests (appointments are limited)
Weekly minimums are 2 guests
Goat Yoga - All the kids are doin' it!

20 person maximum

$40 per person

1.5 hours
45 minute Goat Yoga session
Selfies or group photo opportunities with the goats!
(Bring your own farm-friendly--it might get dirty--yoga mat or towel.)
2023 Session Dates




May 5, 6, 13, 20 & 21

June 3, 9, 10, 24,

July 8, 9, 28 & 29

August 5, 6, 12, 25 & 26

September 9, 10, 16, 17 & 22

October 14 & 15
Private Party

Celebrate life, Birthdays, Graduations and Friendship

Up to 20 people

$500

2 hours

Limited dates for 2023




Text Ellen at 630-774-9211 for availability
30-45 minute Goat Yoga session (with certified instructor)

For smaller yogis class can just be guided individual poses with BSF employee for fun

If yoga not desired play time can be just as fun
Selfies or group photo opportunities with goats!

Up to a 30 minute Guided Tour of the farm

Learn about our animals, their behavior and care

Meet the horses, donkey, and chickens!

1 hour of party time to c

elebrate your special event

Bring your own appetizers, lunch, dinner, or dessert

Table and chairs provided

Party Helper at your service to assist with your needs

Spend time with Ellen, certified in Animal Assisted Activities and Therapy

Enjoy quiet time in the presence of loving farm animals
Spring is just around the corner and our animals are getting ready for your visit!
GIFT CERTIFICATES ARE AVAILABLE
Cuddles amounts are $50, $75, $100, $125
Goat Yoga is $40 a ticket so write in as a custom amount
CONTACT ELLEN 630-774-9211 OR [email protected]
At Blue Sky Farm we invite you to experience the pure joy of baby goat cuddles in our winter baby barn.
Schedule your private visit
or
Purchase a Gift Card for someone you love
Just click the link below.
We created Blue Sky Farm as a place to connect to animals, the earth and each other.



More Amazing Opportunities with Goats!
We breed adorable Nigerian Dwarf Goats. These exceptional kids are socialized here at the farm during our yoga classes and goat cuddles. Once they are thriving and 8-12 weeks old we sell them to loving forever-homes/farms. Their time here at the farm sets them up perfectly to be social pets, milkers or breeders!
This article by Stephanie Fox (Medill Reorts) not only captures our mission, but reveals my heart here at the farm.
Kane County Chronicle wrote a wonderful article to launch our Goat Yoga events!
GOATS, GRANNIES & GRANDPAS

CBS came out to cover an amazing event with the residents of Greenfields of Geneva!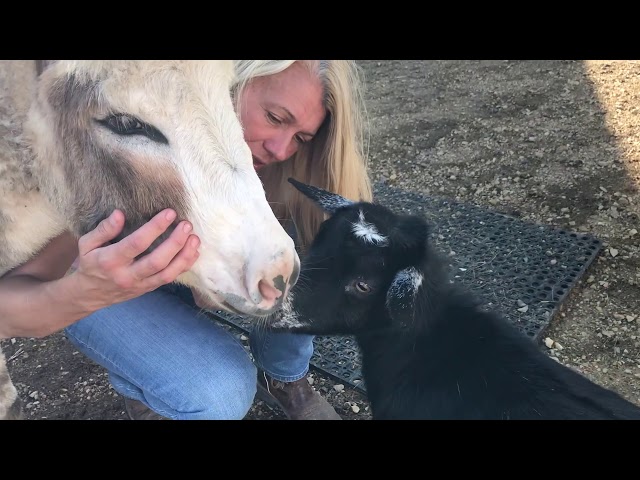 BLUE SKY FARM LIVING VLOG
Subscribe to our Blue Sky Farm Living Vlog
to see what we are up to!
A picture really is worth a thousand words!
Things you "goat" to know:
We are looking forward to your upcoming visit at Blue Sky Farm
Please forward this information to all participants!
Here are a few helpful reminders to ensure a delightful and fun experience:
Our address is 8S890 Mighell Rd, Sugar Grove. We are between Prairie Rd. and Jericho Rd. on Mighell Rd. You will see a yellow farmhouse on the west side of the street.




Please arrive 5-10 minutes before class begins to get settled in and sign a waiver, but PLEASE wait in your car if you are earlier than that. We need time to put the dogs away and greet you properly.




We follow CDC recommendations. Unvaccinated individuals should wear a mask.




This is a gentle flow yoga class.




Dress comfortably, but we suggest you leave the adorable yoga tank tops at home or under a T-Shirt. Sometimes tiny goat hooves are a little scratchy!




Goats like to nibble on hair. Bring a hair tie if you have longer hair.




This class runs rain or shine. You will be outside on the grass, under some mature trees, if weather permits. You may need sunscreen, bug spray, or whatever you usually need when you are outside. You will be in the barn if it is rainy or wet.




Please bring your own farm-friendly yoga mat or beach towel.




All minors need their parent to sign a waiver. It is attached below. Adults or minors accompanied by their parent can sign here at the farm upon arrival.




We will provide water, but you may bring your own refreshments (even beer or wine) to enjoy while you "Goga" with us!




Don't forget your camera. Our animals love to have their photo taken with you!




If you have any questions or concerns, call or text Ellen at 630-774-9211.



Most of all, we hope you enjoy your visit!
Sincerely,
Ellen Beaulieu and the "kids"
Preview Waiver for visitors to Blue Sky Farm
Blue Sky Farm, LLC Waiver and Release of Liability
I, for myself and (if accompanied by) any minor children HEREBY WAIVE AND RELEASE, indemnify, hold harmless and forever discharge Blue Sky Farm Goat Yoga (hereafter called 'Blue Sky Farm, LLC') and its agents, employees, officers, directors, successors and assigns, of and from any and all claims, demands, expenses, causes of action, lawsuits, damages and liabilities, of every kind and nature, whether known or unknown. The animals are handled daily, but I understand that, as with most animals, they may react in an unpredictable way to sounds, sudden movements, certain people, or other animals that could result in injuries. By this waiver, I/children, assume any risk, and take full responsibility and waive any claims of personal injury, death or damage to personal property. This waiver is for the duration of my visit and any future visits and includes, but is not limited to, observing, working with or interacting with the animals, using the facility and its equipment in any manner, and practicing and/or engaging in goat yoga other related activities. It is a condition of entry that visitors observe all warnings, do not venture over safety barriers or fences and do not enter Blue Sky Farm, LLC's off limit areas.
Goat Yoga Participant understands that goat yoga involves physical exertion and that injuries may occur when participating in such activities. Participant accepts and assumes the risks associated with goat yoga, including, but not limited to, overexertion, inability to perform suggested exercises or maneuvers, physical or mental conditions that impede the ability to properly perform suggested exercises or maneuvers, and failure to follow instructions. Participant understands that farm animals will be part of the goat yoga activity and accepts and assumes the risks associated with the use of farm animals while engaging in this activity. Participant hereby freely and expressly assumes all risks of property damage, injury and death associated with goat yoga and farm animals. Participant understand that it is his/her responsibility to consult with a physician prior to and regarding participation in goat yoga. Participant represents and warrants that he/she has no physical or mental condition that would prevent full participation in goat yoga. Participant agrees to inform his/her instructor immediately of any physical or mental condition that would prevent his/her full participation in goat yoga. In consideration for participation in goat yoga, participant hereby agrees to release, hold harmless and indemnify the yoga instructor, and Blue Sky Farm, LLC, an Illinois limited liability company, their members, heirs, successors, assigns, independent contractors, employees, agents and instructors from any and all claims by or on behalf of participant against any claim, injury or otherwise arising directly or indirectly out the participant's participation in goat yoga. This release includes claims and liabilities arising from any cause whatsoever, including, but not limited to, negligence on the part of Blue Sky Farm LLC. This release is binding upon participant, and participant's heirs, assigns and legal representatives. If signing on behalf of a minor participant, parent/guardian accepts full responsibility for any medical expenses incurred due to the minor's participation in goat yoga or animal interaction and agrees to release, hold harmless and indemnify (including costs and attorney's fees) Blue Sky Farm, LLC for any claims brought by or on behalf of the minor.
Photographic Release: I/children do hereby grant and convey unto the Blue Sky Farm all rights, title, and interest in any and all photographic images, video and audio recordings made by the Blue Sky Farm during my/children's visit and any benefits derived from such photographs or recordings.
This WAIVER AND RELEASE contains the entire agreement between parties, and supersedes any prior written or oral agreements between them concerning the subject matter.​ The provisions of this WAIVER AND RELEASE may be waived, altered, amended or repealed, in whole or in part, only upon the prior written consent of all parties.​
The undersigned hereby acknowledges that he/she has read the attached release titled Blue Sky Farm, LLC Waiver and Release of Liability, fully understands its terms and conditions, understands that he/she has given up substantial rights by signing this release and has signed it freely and voluntarily without any inducement, assurance or guarantee being made to the undersigned and intends his/her signature to be a complete and unconditional release of any and all liability to the greatest extent allowed by law. I am 18 years of age or older, and/or legal guardian of children, and mentally competent to enter into this waiver.
Name of Participant_____________________________________________________Name of Parent _______________________________________________________
Parent Signature________________________________________________________Date ___________________________
WE WOULD LOVE TO HEAR FROM YOU!
Questions about an upcoming event? Would you like to hold a private Goat Yoga event? Would adding our goats to your event make it even more exciting? No request is too silly!
You can also text me at 630-774-9211 or
email us at [email protected]
/